---
---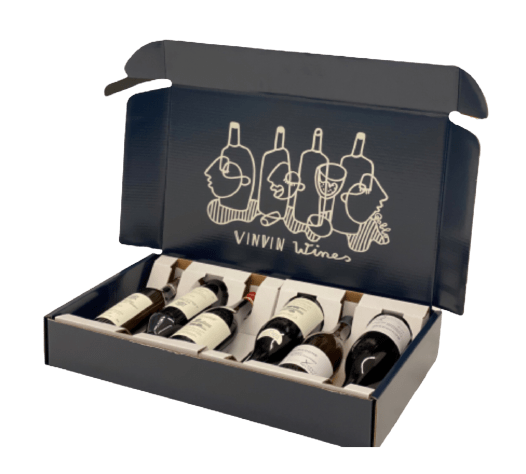 Together with the popular contemporary artist Pablo Lucker we developed a premium 6 bottle gift box. The January Favorite Box consists of 6 different bottles of exclusive wines from top wine regions such as the Alsace, Chablis, Loire, Rioja, Tuscany and Wachau.
Lees meer
Hugel Pinot Blanc
It is the most approachable wine of Alsace and also the most consistent year in year out. Not far in style from an unoaked Chardonnay such as a Macon or Chablis.
The aroma is fruity, elegantly scented and full or spring. On the palate this is a dry wine with a joyful and harmonious attack. It is cool, refreshing, rounded and smooth; it quenches the thirst with a full-flavoured and savoury finish.
Domaine d'Henri Les Allees Chablis
Petit Chablis has a freshness due to great minerality. Creamy and juicy on the palate with white fruit (conference pear, white peach and citrus).
Typical mineral notes with impressions of bergamot and guava in the long and smooth finish.
Högl GV Federspiel Ried Schon
A wine that highlights the elegant and delicate side of the vineyard. In the play of feathers from the Schön, lightness with length and minerality with acidity and fruit combine to form a harmonious structure. The wine is animating, fragile and yet compact. Needs 1 year to be completely open, and then for 2-3 years (depending on the vintage) to present itself in ever new facets.
Pascal Jolivet Pinot Noir
Attitude Pinot Noir is from the Loire Valley
and is the result of traditional wine making techniques. Made from 100% Pinot Noir, the vines are planted in the Touraine and Sancerre areas.
The philosophy of the estate is to let nature take its course as much as possible The grapes are hand sorted. And 10% of the wine is stored in new oak barrels before being blending with the wine from stainless steel tanks.
Sierra Cantabria Crianza
Old propietary vineyards in San Vicente de la
Sonsierra. Organic fertilization. Environmental integrated agriculture cultivation. Intense Cherry. Fine toasted notes (cocoa and coffee) and ripe fruit with defi nite expression.
Powerful palate, smoky with well-balanced toasty notes of oak and fruit.
Fattoria dei Barbi la Maremma
This is the Maremma area's most classic wine, the finest expression of this region rich in history,
culture and landscape. Here the Sangiovese grape is traditionally called Morellino, and as opposed to the rest of Tuscany it is particularly well-rounded and rich in tannin.