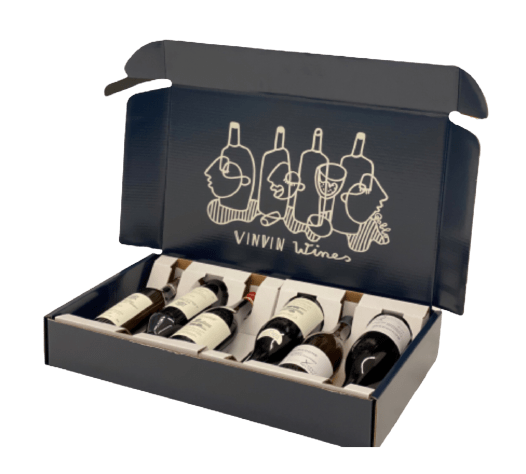 Login or register to see the price.
Together with the popular contemporary artist Pablo Lucker we developed a premium 6 bottle gift box. The May Favorite Box consists of 6 different bottles of exclusive wines from top wine regions such as the Bordeaux, Burgundy, Loire, Rueda and Tuscany!
Lees meer
Pascal Jolivet, Attitude Sauvignon Blanc
"Attitude" has a beautiful freshness in mouth, a frank attack, delicate green and lemon flavours, citrus fruits, green apple and kiwi aromas. The minerality gives a long finish to the wine, a smoothness and elegance.
Valdecuevas Verdejo Barrica
100% Verdejo, fermented in French oak barrels. Processed from selected grapes at optimum ripeness and seeking their highest aromatic expression. Fermentation in French oak barrels, with fine toasting and grain. It is nurtured on lees for seven months, over which there has been a daily batonnage.
Domaine Xavier Monnot, Burgundy Chardonnay Les Grandes Coutures
Chardonnay Les Grandes Coutures is from three plots bordering Meursault with vine ages from 15 to 51 years. Soils are predominantly argile (clay), bringing weight and texture to this Bourgogne Blanc. The wine was aged from 12 to 14 months in 15-20% percent new French oak. This is already a delicious wine with its ripe fruitiness, with hints of tropical fruit as well as red apples. Rounded and softly textured it has succulent acidity and an oak kissed finish.
Podere San Cristoforo, PINK rosé
Rosé from gently pressed Sangiovese grapes fermented naturally with indigenous yeasts. The low yields and the deep gravelly soils near the sea give us an interesting rosé with a variety of subtle scents and flavors. In addition, the label is a true creative gem: inspired by the legendary Algie -the inflatable pig used by Pink Flyd for the album cover "The Animals" - a symbol of freedom for all the best music fans!
Pascal Jolivet, Attitude Pinot Noir
Attitude Pinot Noir is from the Loire Valley and is the result of traditional wine making techniques. Made from 100% Pinot Noir, the vines are planted in the Touraine and Sancerre areas. The philosophy of the estate is to let nature take its course as much as possible The grapes are hand sorted. And 10% of the wine is stored in new oak barrels before being blending with the wine from stainless steel tanks.
Château La Mission, Lalande de Pomerol
Château La Mission's jewel-sized vineyard in Lalande-de-Pomerol has been in the Garde-Lasserre family, who also own Pomerol's Clos René and Moulinet-Lasserre, for several generations. Located on the south-western edge of the appellation bordering Pomerol, the Merlot and Cabernet Franc vines are planted on an excellent terroir of loess and ferric clay.
The 40 yr. old vines are tended with meticulous care (manual harvest) in order to produce a wine with aromas of ripe fruit that is silky, full, charming and approachable in its youth. The name "La Mission" dates back to the time of the crusades, when knights passing through the region of Pomerol on their way toward the Mediterranean would stop to pray in front of the Mission cross, which is still present today
on the property.