---
---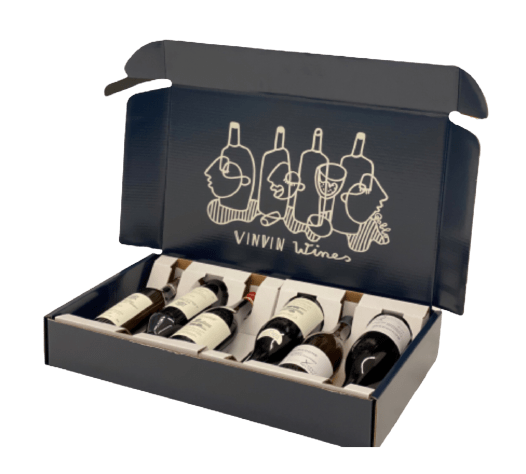 Login or register to see the price.
Together with the popular contemporary artist Pablo Lucker we developed a premium 6 bottle gift box. The AprilFavorite Box consists of 6 different bottles of exclusive wines from top wine regions such as the Alsace, Provence, Sancerre, Tuscany and Wachay!
Read more
Famille Hugel Pinot Gris
This wine has a very diplomatic personality which will combine well with all such as sea or freshwater fish, lobster, langouste, red mullet and white meat such as poultry, veal or pork.
Weingut Högl Riesling Federspiel J&G
Fresh, uncomplicated, engaging fragrance of fresh grapes, some stone fruit and green pineapple; grinding acidity, delicate fruit bite, open and amical. Combines vey easy with food like tapas, sushi, sashimi, but also as an apetiser!
Pascal Jolivet Sancerre Blanc Les Caillottes
Pascal Jolivets Domaine supplements the estate holdings with additional fruit sourced from some of the prime terroirs of the region including "les Caillotes", "le Chêne Marchand", "les Terres Blanches", "les Griottes", and "le Clos du Roy".
Sancerre wines originate from three soil types: clay, limestone and flint. Sancerre wines are more floral and elegant than wines of the same varietal type in other regions.
Chateau la Tour de l'Évéque, Petale de Rose, rosé
The Pétale de Rose is one of the first pale rosés, light salmon coloured, of the Provence. Colour is pale rose petal. Nose is delicate, offering ripe strawberry and
nectarine aromas, flowery notes. Flavours are intense, pungent with lots of liquorice and pink pepper melting into the sweet fruitiness of strawberry and peach.
Famille Hugel Pinot Noir
Its deep ruby color catches the eye instantly, brilliant, appealing. The nose is classic, subtle and elegant, very Alsace and very Pinot, expressing little red fruits: cherry and redcurrant. The palate is rich, ample, with good texture, the tannins are soft, ripe and delicate, displaying the perfect style for a Hugel Classic Pinot.
The Bourgogne Pinot Noir displays a rich bouquet of ripe cherries and licorice, followed by a medium-bodied, fleshy and succulent palate that—like its white counterpart—is adapted to near-term consumption.
Fattoria dei Barbi, Rosso di Montalcino
This wine has the same characteristics of Brunello but with an easier approach. The grapes of Sangiovese come from the younger vineyards which produce aromatic and elegant wines with a medium body. It is the ideal every day companion for family meals.