---
---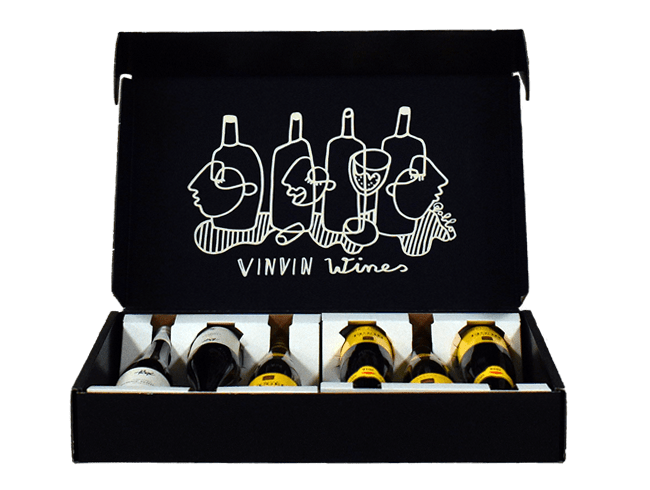 Login or register to see the price.
Especially for the asparagus season, we now have our favourite box with 6 different wines to combine with various asparagus dishes. Six wines from two wine producers: Weingut Hogl from the Wachau in Austria and Famille Hugel from the Alsace
Read more
Famille Hugel Gentil
Produced exclusively from hand harvested grapes in predominantly clay and limestone vineyards, from a dozen of the most favored localities in and around Riquewihr. Gentil "Hugel" allies the suave, spicy flavour of Gewurztraminer, the body of Pinot Gris, the finesse of Riesling, the grapiness of Muscat and the refreshing character of both Pinot Blanc and Sylvaner.
Famille Hugel Pinot Blanc Classic
It is the most approachable wine of Alsace and also the most consistent year in year out. Not far in style from an unoaked Chardonnay such as a Macon or Chablis.
Famille Hugel Pinot Gris Classic
Pinot Gris truly dry and gastronomic which reveals itse although still dry, it is ideal with terrines, white meats and fish in sauce. Of all the Alsace varieties, Pinot Gris has the greatest ageing potential.
Famille Hugel Riesling Estate
A new selection "parcellaire" of carefully chosen plots of the Famille Hugel estate situated in Riquewihr crus. Most of the plots chosen for this new wine are being converted into Organic viticulture. The unique marl soils of Riquewihr, in and around the Schoenenbourg give a characteristic minerality to wines from this remarkable terroir depth and of patience.
Weingut Högl Grüner Veltliner Federspiel Ried Schon
A wine that highlights the elegant and delicate side of the vineyard. In the play of feathers from the Schön, lightness with length and minerality with acidity and fruit combine to form a harmonious structure. The wine is animating, fragile and yet compact. Needs 1 year to be completely open, and then for 2-3 years (depending on the vintage) to present itself in ever new facets.
Weingut Högl Riesling Federspiel Ried J&G
Plots of land near the Danube characterise this Riesling, which presents itself from the first second on, fresh and full of fruit. It is uncomplicated, clear in its aromas, yet with a little warmth that makes it round and soft.