---
---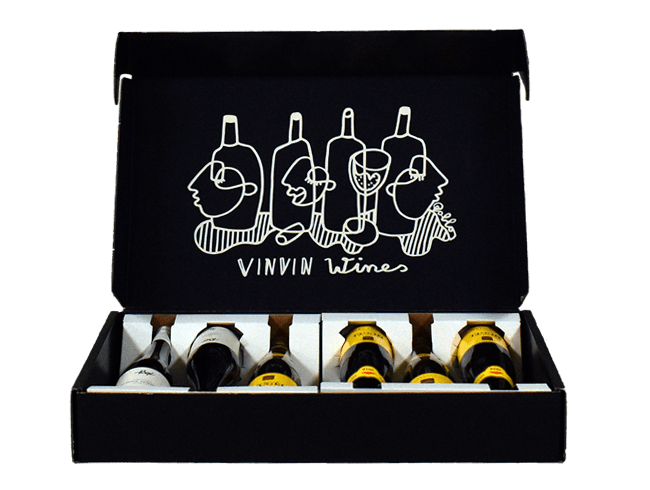 Especially for the asparagus season, we have 6 different wines in our Favorite Box that combine perfectly with various asparagus dishes. Six wines from three well-known family wineries: Famille Hugel from Alsace, Weingut Högl from the Wachau and Weingut Allram from the Kamptal area.
Read more
Famille Hugel Gentil
Produced exclusively from hand harvested grapes in predominantly clay and limestone vineyards, from a dozen of the most favored localities in and around Riquewihr. Gentil "Hugel" allies the suave, spicy flavour of Gewurztraminer, the body of Pinot Gris, the finesse of Riesling, the grapiness of Muscat and the refreshing character of both Pinot Blanc and Sylvaner.
Famille Hugel Pinot Blanc Classic
It is the most approachable wine of Alsace and also the most consistent year in year out. Not far in style from an unoaked Chardonnay such as a Macon or Chablis. The wine welcomes us with a light and bright robe. The nose, discrete, subtle and racy opens up on delicate floral notes, without excess, without a need to shout. On the palate, it is freshness that dominates, green apple and yellow plum, fresh hay bring up generosity and a lingering salivating structure invites for a bite.
Famille Hugel Pinot Gris Classic
This Hugel Pinot Gris from Alsace is very aromatic. The wine is truly dry and gastronomic, on the palate it is a fine and juicy example of balance and sophistication energised by its wonderfully refreshing finish. This Pinot Gris is perfect in combination with asparagus, terrines and other white meats. Of all the Alsace varieties, Pinot Gris has the greatest ageing potential.
Weingut Allram Alte Reben Gruner Veltliner
A brilliant Grüner Veltliner which impresses with its mightiness and its power and a long finish. It has a brilliant golden yellow and in the nose there are aroma's of pineapple and apricots. Underlying hints of honey, spice and white pepper. The wine is full-bodied on the palate with a lively structure.
This wine can be served with a wide variation of dishes, such as roast beef, roast venison, calf and lamb but is also a great companion for Asparagus.
Weingut Allram Hasel Gruner Veltliner
The color is deep yellow green. On the nose there are aroma's of some excellent spicy fruit. The taste has a well balanced acidity, mineralic with tones of blood orange and honeydew melon. The wine is powerful, juicy and dense and shows an elegant and long aftertaste.
Weingut Högl Riesling Federspiel Ried J&G
Plots of land near the Danube characterise this Riesling, which presents itself from the first second on, fresh and full of fruit. It is uncomplicated, clear in its aromas, yet with a little warmth that makes it round and soft.