---
---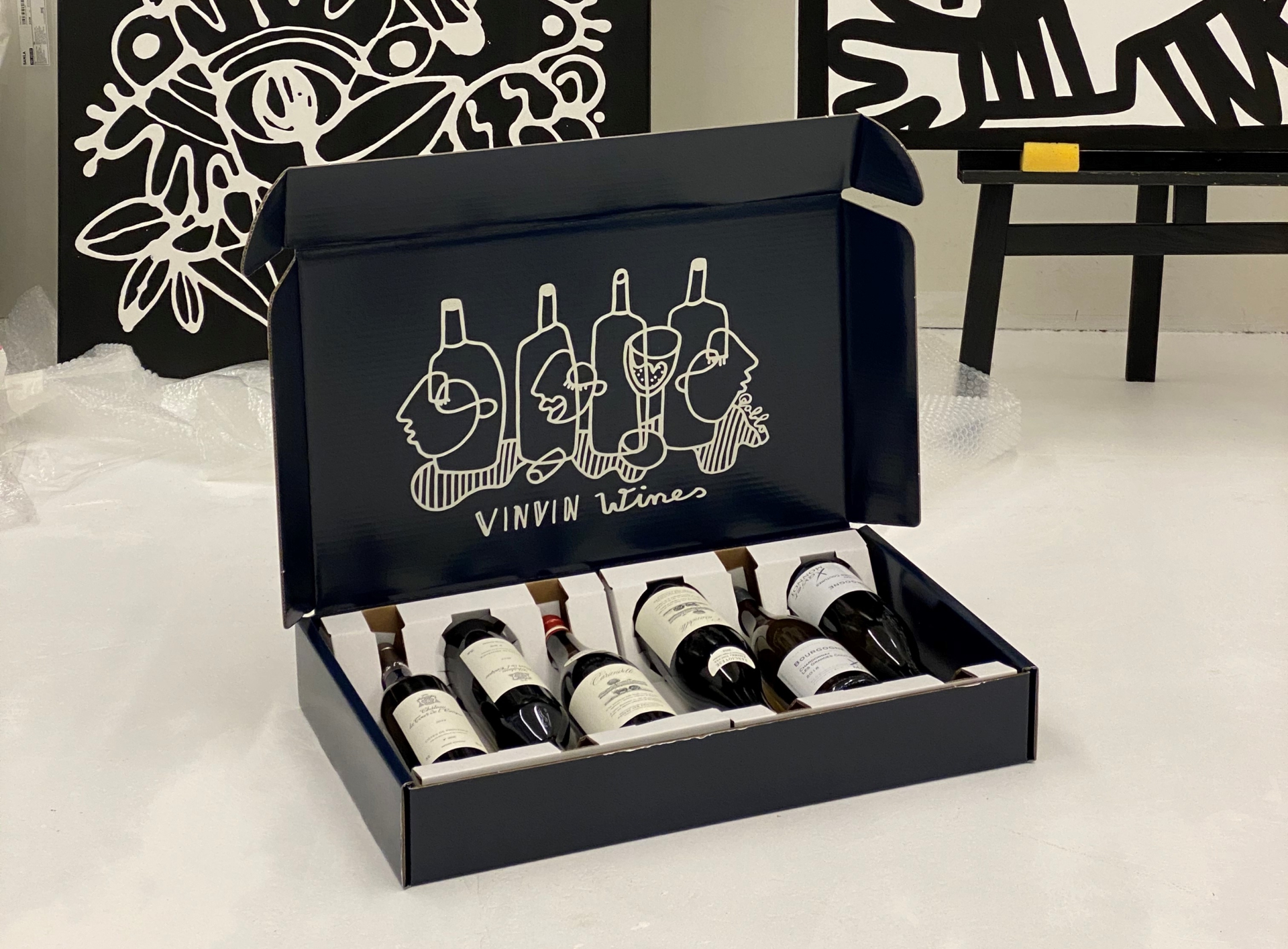 Together with the popular contemporary artist Pablo Lucker we developed a premium 6 bottle gift box. The August Favorite Box consists of 6 different bottles of exclusive wines from top wine regions such as the Piemonte, Toscane, Hemel en aarde vallei (South-Afrika), Kamptal, languedoc-Roussillon and Rioja.
Read more
Attention red wine lovers! This month the favorite box contains a new addition to our range; The Blauer Zweigelt from Weingut Allram!
Bon Vivant Rose 21
The Grenache Rosé from Bon Vivant is the summer favorite of every wine lover. The vineyards are located in the Languedoc in southern France, on the Mediterranean Sea. This salmon pink Rosé has an explosion of red fruit and lots of freshness, which makes it not only delicious as an aperitif, but also the perfect accompaniment to summer dishes.
Chardonnay Tesselaarsdal 21
A pure Chardonnay from the Hemel en Aarde Valley where the fruit character comes to the fore. Furthermore, the wine has notes of citrus blossom and sweet lemongrass. The soil of the vineyards consists of stone and clay, which creates a neutral acidity that is very pleasant to drink. The perfect, classic wine that goes well with white meat, poultry, shellfish and white fish.
Cordero Langhe Arneis
The grape 'Arneis' in Italian means 'little difficult', a grape that is very difficult to grow in the vineyard. But in Piemonte, Italy, they can raise this floral-scented grape flawlessly. It is a young wine with a clear straw colour. Furthermore, the taste of peach, yellow flowers and melon comes to the fore. This Italian, authentic, white grape goes well with antipasti and vitello tonnato. In addition, just like the Bon Vivant Rosé, it is perfect as an aperitif.
Carandelle Sangiovese
The classic Sangiovese grape from Tuscany, Italy is produced according to biodynamic regulations. This means that the wine has an organic label. Furthermore, the Sangiovese grape is known for its intense and bright ruby ​​red color with aromas of black currant, licorice and spices. This 100% Sangiovese has an elegant tannin structure, which makes the wine go well with game dishes and grilled meat. It also goes well with typical, traditional dishes from Tuscany such as 'Bistecca alla Fiorentina'.
Allram Blauer Zweigelt
The Blauer Zweigelt grape is grown in the Lower Austria region. This is a federal state of Austria. Because it is nice and warm here during the day and cools down considerably in the evening, the grapes can rest well. The winery Allram has a lot of experience in viticulture and still picks the grapes by hand, then the grapes are fermented under a cool temperature and they remain in the yeast cells for three months, resulting in more flavor and complexity. It is a full-bodied and soft red wine with hints of purple summer fruits and earthy notes.
Sierra Cantabria Crianza
A powerful Tempranillo from the Rioja region, Spain. The main wine region where the Tempranillo grape is grown. "Crianza" literally means "education" in Spanish. These wines have aged for at least two years with a minimum of six months in oak barrels. The wine has roasted notes of cocoa and coffee, in addition to which one tastes intense cherry. This wine goes perfectly with poultry, game and red meat.