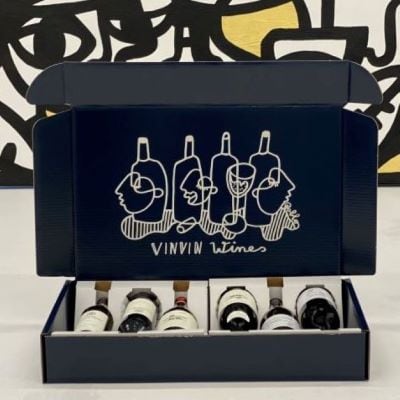 Login or register to see the price.
Together with the popular contemporary artist Pablo Lucker we developed a premium 6 bottle gift box. The February Favorite Box consists of 6 different bottles of exclusive wines from top wine regions such as the Champagne, Provence, Rueda, Tuscany and Rioja!
Read more
Petale de Rose, Provence Rosé
The Pétale de Rose is one of the first pale rosés, light salmon coloured, of the Provence. Colour is pale rose petal. Nose is delicate, offering ripe strawberry and nectarine aromas, flowery notes. Flavours are intense, pungent with lots of liquorice and pink pepper melting into the sweet fruitiness of strawberry and peach.
Valdecuevas Verdejo Barrica
100% Verdejo, fermented in French oak barrels. Processed from selected grapes at optimum ripeness and seeking their highest aromatic expression. Fermentation in French oak barrels, with fine toasting and grain. It is nurtured on lees for seven months, over which there has been a daily batonnage.
Podere San Cristoforo, Luminoso Vermentino, Toscana DOC
Luminoso, from old Vermentino vines, is a dense and rich white with sliced apple, peach and apricot character. Bright acidity and a long finish. Luminoso's grapes were harvested at night and were fermented on wild (indigenous) yeast. Greetly influenced by the sea and the light, that are major features of this area, Luminoso is a white whose extraordinary mineral sensations derive from the deep roots of the "Campo Vecchio" vines.
Champagne Bouby & Fils, Brut Selection
This champagne is a textbook Brut: fresh, round and has a lovely mousse. An aromatic nose, aromas of white fruits (pear), stone fruit (apricot) with subtle notes of honey and biscuit. Harmonious and a finsih with lots of freshness.
Il Ghizzano IGT Costa Toscana
This is the wine that "introduces" the estate into wine bars, wine stores and restaurants all over the world. It is made from Sangiovese grapes with a small percentage of Merlot, grown mainly in our "Santa Maria" and "Il Monte" vineyards.
The philosophy behind IL GHIZZANO is that of offering consumers a fresh, fruity, easy to drink wine featuring all the sweetness of the local Sangiovese.
Sierra Cantabria Seleccion
Intense ruby red. Aroma of red fruits (strawberry) in good intensity in conjunction with spice, vanilla and oak notes. On the palate it is fresh, soft, balanced, with the fruit well integrated with the notes of oak, vanilla and light toast. Nicely proportioned and surprisingly long in
the finish