---
---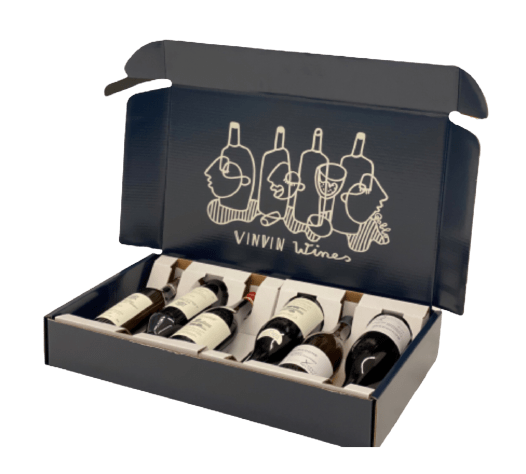 Login or register to see the price.
Together with the popular contemporary artist Pablo Lucker we developed a premium 6 bottle gift box. The March Favorite Box consists of 6 different bottles of exclusive wines from top wine regions such as the Provence, Sancerre, Chablis, Tuscany and Burgundy!
Read more
La Source Gabriel Rosé
The Rosé La Source Gabriel is produced from grapes cultivated and vinified by Roger Blanc Sumeire, nephew of Régine Sumeire, in Pierrefeu du Var,
in the family estate of Font-Freye, in front of the Château La Tour de l'Evêque. A cheerful wine with ripe, but fresh, intense aromas. The flavour intensity is expressive, with creamy strawberries and spicy notes.
Chateau la Tour de l'Évéque Blanc
60% Rolle and 40% Semillon. The nose is clean, pronounced, with peachy primary aromas, completed by golden apples on flowery background, reminding the honeysuckle. The palate is dry, with crispy, citrusy acidity balanced by the silky mouthfeel. The flavours remind the pomelo and its zests, together with aromas from the nose, lingering on the long finish.
Pascal Jolivet Sancerre Signature Blanc
The Pascal Jolivet Sancerre is fresh, clean and screaming with racy acidity. On the palate it is fresh and tightly wound; acidity is tempered by very subtle residual sugar; very clean; alive, racy, youthful. Overall, a dry and elegant wine.
Sancerre wines originate from three soil types: clay, limestone and flint. Sancerre wines are more floral and elegant than wines of the same varietal type in other regions.
Le Domaine d'Henri Chablis St. Pierre
The combination of the Kimmeridgian soils that are so typical of the appellation and a continental climate allow the Chardonnay grape to produce this fine, elegant and racy Chablis, with a distinct minerality. Made from vines planted in 1988, 1989 and 2001 and vinified uniquely in stainless steel tanks, this is a great example of grapes harvested at full maturity.
Pale yellow, in bouquet and taste, white fruit merges where the spicy minerality beautifully combines with an elegant structure that provides a delicious aftertaste.
Fattoria dei Barbi, Brusco dei Barbi
The label is the original one, designed by Giovanni Colombini in 1969, the year of its first release as an IGT Toscana. The wine is named after a free-spirited gentleman named "Bruscone" that lived in the woods near the Barbi estate.
This wine is the result of long studies regarding the fermentation of grapes from Montalcino, done by Giovanni Colombini in the s'60 and '70. It is a very versatile red wine, never excessive, ideal to share with friends the pleasure of conviviality. It is made mostly with Sangiovese, uncomplicated and straightforward, and shows its typical fruity notes.
Domaine Xavier Monnot Bourgogne Pinot Noir
Xavier Monnot is a leading wine producer in Meursault whose winemaking style emphasizes purity of fruit, elegance, and complexity. Xavier can trace his mother's ancestors, the Monniers, back to 1723, with six generations of winegrowing.
The Bourgogne Pinot Noir displays a rich bouquet of ripe cherries and licorice, followed by a medium-bodied, fleshy and succulent palate that—like its white counterpart—is adapted to near-term consumption.