---
---
Italesse Etoilé Platinum Excellence 650cc Handmade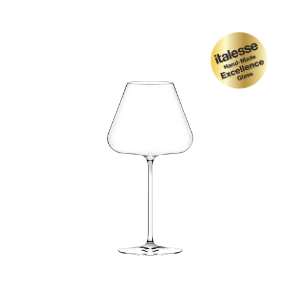 Login or register to see the price.
Perfect voor het serveren van stevigere rode wijnen en vollere witte wijnen met houtrijping.
Read more
Het gedachte goed van de wijnglazen lijn van Italesse is gebaseerd op de aroma's van het hart van de wijn. Uniek is dat Italesse afstapt van de traditionele gedachte dat wijnglazen passen bij een regio, maar de structuur en aroma's van de wijn centraal stellen. De glazen zijn dusdanig ontworpen dat afhankelijk van het type wijn gekeken wordt welk glaswerk het karakter tot perfecte uitdrukking kan brengen. Daarom werkt Italesse met indexen die aangeven welke wijnstijl passend is bij het glaswerk. Daarbij wordt onderscheid gemaakt tussen intensiteit, complexiteit en elegantie van de wijn, maar ook wordt gekeken naar de frisheid en de zuren, de rondheid en de structuur.
Italesse Etoile Platinum Excellence 650cc Handmade
Designed by Luca Bini
Etoile Platinum Excellence is een uniek mondgeblazen wijnglas gemaakt van krisstallijn. Het is een buitengewoon licht, elegant en breed inzetbaar wijnglas. Het slanke ontwerp heeft een taps toelopende kelk die perfect is voor het accentueren van het karakter gestructureerde en vollere rode én witte wijnen. Het glas heeft een inhoud van 650 cc.
Producer

Italesse Etoilé Platinum Excellence 650cc Handmade
Country of origin
Wine Region