---
---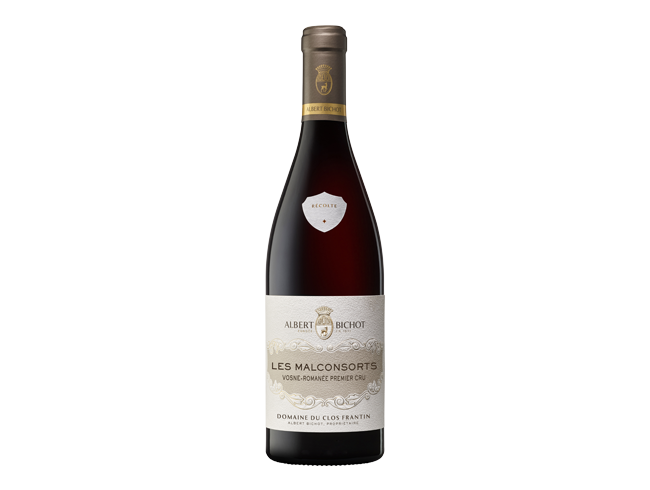 Login or register to see the price.
Les Malconsorts is an exceptional Vosne-Romanée Premier Cru. We are lucky enough to own 1.75 ha (4.3 acres) of this jewel, which is located close to legendary vineyards (less than 400 meters from Romaneée-Conti and less than 600 meters from Richebourg!). The name "Malconsorts" suggests that this land must once have been at the origin of disputes between "mauvais consorts" (bad partners), from the Latin word CONSORS meaning "associate, partner". These litigants would have had a common interest in a case. The prefix "Mal-" would indicate that they conducted themselves inappropriately over land that they owned jointly.
Read more
Wine Country

France

Grape varieties wine

Pinot Noir

Wine-food combination

This wine is both intensive and fresh and will pair perfectly well with oily fish, white meat and hard cheese.
Domaine du Clos Frantin, a beautiful 18th century estate, is located in Nuits-Saint-Georges at the heart of the Côte de Nuits, home to the world's most rare and prestigious appellations where the Pinot Noir grape flourishes. The vines cover a surface area of 7.3 hectares, of which 3.9 are Premier and Grand Crus. The use of fertilizers and herbicides has been replaced by compost and ploughing. Respect for the soil, severe pruning and performing green harvest if needed allow us to obtain low volumes of high-quality grapes. Our vineyards are organic certified since 2012 and starting with the 2018 vintage, all the wines from the estate will bear the certified "organic wine" label. The winery is equipped with modern vinification equipment that nevertheless allows us to respect traditional methods. Working with gravity has replaced mechanical operations to better respect the quality and aromatic potential of the grapes.
Producer

Albert Bichot
Country of origin

France
Wine Region

Burgundy
Classification

AOC Vosne-Romanée Premier Cru
Vintage

2020
Grape varieties wine

Pinot Noir
% of grape varieties wine

100% Pinot noir
Tasting note

The nose is fine and complex with delicate primary aromas enhanced by a subtle touch of oak. Soft, fruity notes end on a spicy finish. After a few minutes, subtle notes of peppermint and cedar develop. On the palate, all the crispiness of Pinot Noir with very pleasing, smooth, mouth-filling tannic texture.
Wine-food combination

This wine is both intensive and fresh and will pair perfectly well with oily fish, white meat and hard cheese.
Vinification

The grapes are handpicked and ferments in temperature-controlled conical oak vats for about 20 to 28 days. After that wine ages for 14 to 18 months in oak barrels of which 20-30% new.
Location Vineyard

The vineyard is adjacent to La Tâche. This area is renowned because it is very sunny.
Soil

Limestone redzina
Serving temperature

Serve between 16 and 17°C
Ageing potential

This wine may be enjoyed now or laid down for 3 to 5 years or more.