---
---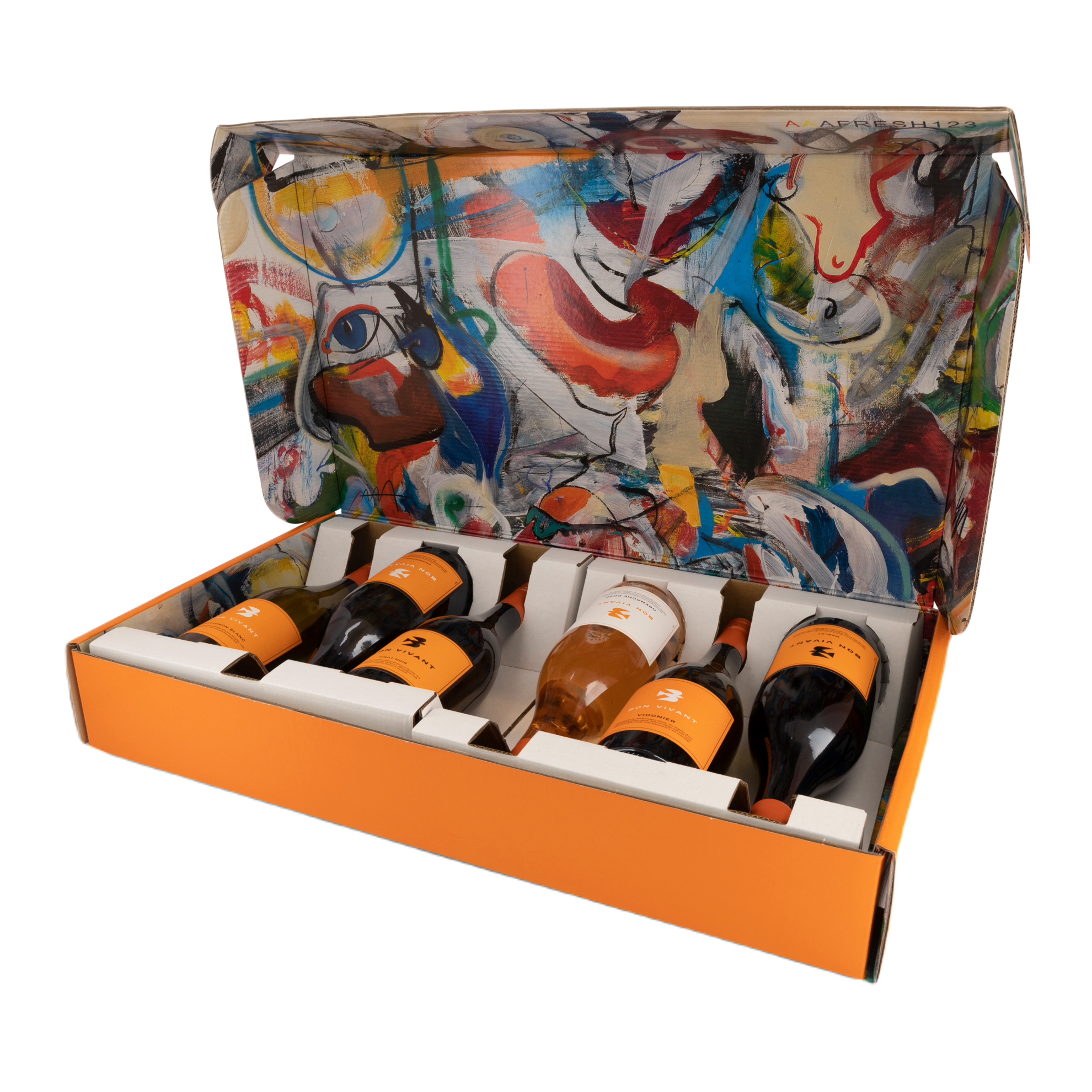 Bon Vivant is all about the mediterranean lifestyle and its passion for good food and wine. Bon Vivant offers wines that capture the relaxed, simple and spontaneous spirit of the best wine regions.
Together with AAAFRESH123 we developed a premium 6 bottle gift box. The Bon Vivant Favorite Box consists of 6 bottles and 6 varieties of exclusive wines from top wine regions Languedoc and Loire in France. A rich and mineral Sauvignon Blanc,  a fresh and rounded Chardonnay, a fruity and creamy Viognier, a fresh Rosé with notes of red berries, a Merlot with hints of black fruits and blackberry and an aromatic Pinot Noir.
Read more
Bon Vivant Sauvignon Blanc 
The Bon Vivant Sauvignon Blanc has a dusty, rich bouquet with aromas of green apple, citrus and light notes of grass. In the taste, the wine has a good, lively acidity. This makes the wine refreshing, but thanks to the minerality there is a good elegance and softness in the aftertaste. The wine is delicious as an aperitif, but also a good combination with various seafood and fish dishes such as smoked salmon or white fish. In addition, it is beautiful with a salad of green asparagus, but goat cheese also goes perfectly with this.
Bon Vivant Chardonnay
Made from a selection of only the best Chardonnay vineyards, this is a well balanced and elegant style of Chardonnay. With a combination of tropical fruits, white flowers and a touch of oak this wine will be a good company for any occasion and a wide range of food pairings. The wine stays on its lees with regular batonnage for an intense palette. 20% of the wine matures for 6 months in French oak barrels for a well-balanced result between Its freshness and the touch of oak.
Bon Vivant Viognier
Golden yellow Great complexity in the nose with notes of fresh stone fruit (apricot, peach), fresh mango and wild honey. This beautiful white wine is tight and well balanced. The creamy mouthfeel and toasty notes of the oak are balanced by a rich minerality. Enjoy this wine slightly chilled, with chicken and creamy mushroom sauce, vegetable curry and saffron flavored dishes.
Bon Vivant Grenache rosé
Light color with salmon tones. Nose of red berries and spiciness of "garrigue". Generous fruit and spice notes on the palate. Very intense and refreshing with a long finish. Ideal in combination with Gazpacho, tapas, marinated salmon, monkfish tajine, red fruit crumble or simply by the glass for the aperitif.
Bon Vivant Merlot
Ruby red color with dark violet hues. The nose has aromas of black fruit: blackberry and cherry followed by notes of tobacco. In the mouth, the wine is full and harmonious, a fresh finish with black fruits and ripe tannins. Enjoy this wine with Ox cheek, Provencal aubergines, steak with shallots, roast pork with prunes, wild boar and mushroom dishes.
Bon Vivant Pinot Noir
The Pinot Noir grapes come from the northern hills in the Languedoc, giving the grapes a nice balance between the sunlit vineyards while benefiting from the chalky soil called 'Terres Blanches', which is ideal for growing Pinot Noir to remain fresh and elegant. A real all-rounder; from pasta, red meat to roast duck and grilled tuna steak. Slightly chilled also delicious as an aperitif. Also goes well with, for example, cheeses such as Brie de Meaux.